Designed to Elevate Sharing a Meal
Handmade in Japan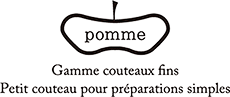 Two types of blades were designed to provide for seamless cutting of bread of various hardness. The blade design provides a smooth entry into the bread. Use a sharp-edged wavy blade when cutting the hard crust of the bread. When cutting the soft part of the pan, use the gently curved wavy blade.
The thin slices are beautifully finished, and there are almost no breadcrumbs.
The blade is made of sharp steel and has a pure gold-plated finish. Each one is made by hand. The texture is different one by one. No two are identically alike.
Material: High carbon molybdenum vanadium steel AUS8 & low carbon martensitic SUS1A-1. Gold plated (24KGP pure gold plating)
Size: 6 ¼" blade
Care:  Hand wash with a sponge, wipe off any moisture, and store in a dry place. Do not use in a dishwasher.