Barbara Stauffacher Solomon
Swiss School Meets California Cool
Barbara Stauffacher Solomon has been a Renaissance person for decades, adeptly defying labels - be it artist or graphic designer, or standing alone on her creative merit as a person, not as a "woman." Stauffacher Solomon has led a rich 20th-century life; its twists and turns have been a constant, dynamic play between experiences feeding her creative process, and her creative process defining new experiences.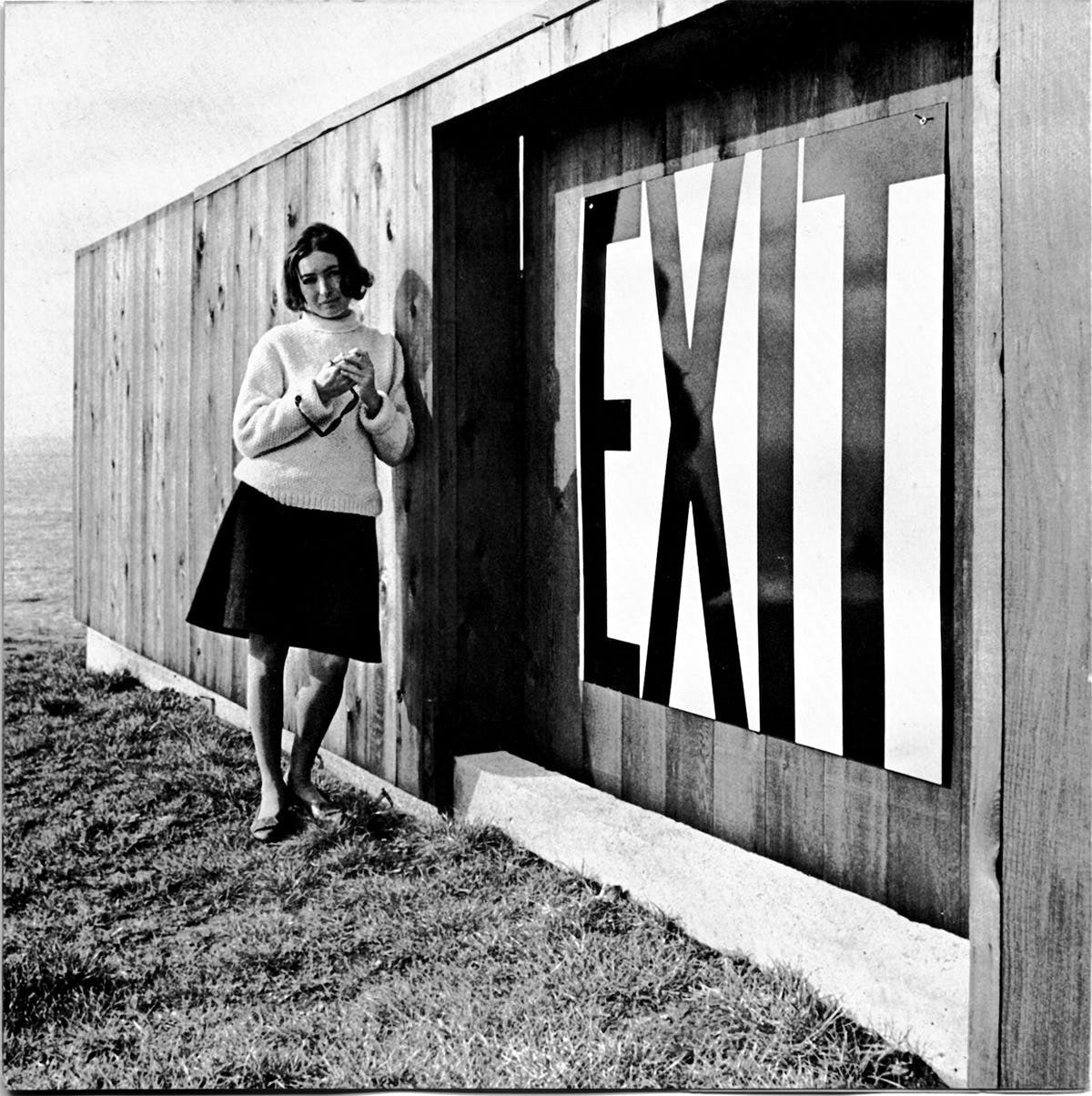 Photo Credit: Berkeley Environmental Design Archives
Beginning as a flamenco dancer while attending high school, Stauffacher Solomon went on to marry well-known film director Frank Stauffacher. Their relationship plunged her into the creativity and characters of the avant-garde 1950s art and cinema world. Upon unexpectedly finding herself a young widow with a child to support, she moved to Switzerland to study under the renowned modernist designer Armin Hofmann. Hofmann became a mentor to Stauffacher Solomon, and she returned to the U.S as a Swiss School devotee of Hofmann, yet with a rebellious and positive California sensibility that is her birthright. Her Old World-New World dynamic led Stauffacher Solomon to become a highly influential and innovative graphic designer whose designs were bigger and bolder than her Swiss peers and embraced the rigor of the Swiss with the joy, humor, and informality of Californians. 
Barbara Stauffacher Solomon's groundbreaking graphic design defined what would become known as supergraphics. "Her iconic style – mixing Swiss Modernism and West Coast Pop – pioneered the look of California Cool, an important moment in graphic design history," Barbara Stauffacher Solomon: I Broke All of the Rules, Hall of Femmes. With supergraphics, Stauffacher Solomon reshaped modern architecture with color and form using artful graphic design to give architecture unexpected new dynamics. Perhaps her most well-known work is the large-scale supergraphics and identity system that she created for the groundbreaking coastal California community, The Sea Ranch in the 1960s. Her work became the front cover image representing The Sea Ranch on numerous magazine and book covers published about the community. This project catapulted her into the popular culture moment that became supergraphics.
Barbara Stauffacher Solomon's most recent, continuous and prolific body of work stands in contrast to her supergraphics. It is smaller and more intimate, all in the hand-held scale of 8 1/2 x 11 inch, letter-size paper. Her complex graphic design-meets-fine art drawings are represented in what has grown to be an anthology of books that together tell the arc of Stauffacher Solomon's life and are often times a reflection of our 20th-century history.
Barbara Stauffacher Solomon is experiencing a renewed appreciation of her work. Hall of Femmes published the monograph, Barbara Stauffacher Solomon: I Broke All of the Rules in 2016. That same year, her extensive artwork for SFMOMA program guides (1972-1986) was also featured in SFMoMA's Typeface to Interface: Graphic Design from the Collection, its architecture and design department's exhibition to mark the museum's reopening. Her work was also featured in SFMOMA's 2018-19 exhibit The Sea Ranch: Architecture, Environment, and Idealism. Later the same year, Adobe Create produced the short-film Visions Not Previously Seen: The Groundbreaking Design Work of Barbara Stauffacher Solomon, and the Berkeley Art Museum and Pacific Film Archive (BAMPFA) commissioned the temporary piece Art Wall: Barbara Stauffacher Solomon. In addition to her SuperSigns exhibit at Placewares in 2019, Stauffacher Solomon is expecting a retrospective of her art and graphic design career to open in Fall 2019, as well as a monograph book on her career and story. 
Photo Credit: BAMPFA
Visit Placewares exclusive collaboration with Barbara Stauffacher Solomon, SuperSigns. 
V