Designed to Elevate Sharing a Meal
Handmade in Japan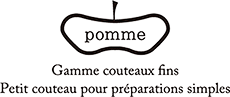 Each piece is hand-engraved, smoked, and finished with a blade. The blade is made of sharp material and has a pure gold-plated finish.

A knife with a beautiful texture will make the time of delicious cheese and wine wonderful. Suitable for cutting soft to semi-hard cheese. The tip is sharp so that you can use it as a fork when you cut the cheese and put it on a plate.
Material: Stainless steel blade steel (Martensitic 420J2)
Size: 4 ¾" blade
Care:  Hand wash with a sponge, wipe off any moisture, and store in a dry place. Do not use in a dishwasher.