Designed to Elevate Sharing a Meal
Handmade in Japan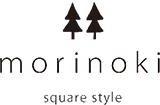 Our Morinoki knives have detailed attention given to each knife's specialty blade. 
The blades of the utility knife and petit knife have been carefully designed with a gentle curve and slim form. The Hard Cheese Knife and Pizza Cutter eliminate unnecessary projections and recesses as a top priority for them is simplicity. Detailed attention was also given to two types of serrated edges for the bread knife. The two types of serrated edges are specifically designed for cutting hard and soft bread.  The end of the blade easily cuts through hard crusts while the center part smoothly slices the bread. The knife makes a very clean-cut, creating beautifully thin slices and minimal crumbs.
Morinoki knives' wooden handles also were thoughtfully designed. Special attention was given to the square wooden handle made of solid Japanese zelkova. A natural-looking handle was created with the refreshing color and soft texture of woodgrain. The square form is gently curved for easy use in the kitchen, at the table, or during a party in the garden.
Material   
Blade: stainless steel (DSR1k6) 
Handle: Japanese zelkova (natural wood)
Size: 
Full length 290mm
Blade length 6 ¾" in/170mm
Care: Although the surface is coated, do not keep the knife wet for long periods of time. Handwash. Do not put in the dishwasher.