Designed to Elevate Sharing a Meal
Handmade in Japan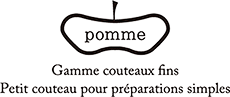 A knife that is not too big and is just the right size to use on a table. Ideal for fine work such as peeling vegetables and fruits and cutting. The handle is shaped like a steak knife, so it fits comfortably in your hand.
The blade is made of sharp steel and has a pure gold-plated finish. Each one is made by hand. The texture is different one by one. No two are identically alike.
Material: High carbon molybdenum vanadium steel AUS8 & low carbon martensitic SUS1A-1. Gold plated (24KGP pure gold plating)
Size: 5 ¾" blade
Care:  Hand wash with a sponge, wipe off any moisture, and store in a dry place. Do not use in a dishwasher.